Top 5: The best fishing experiences near Tulum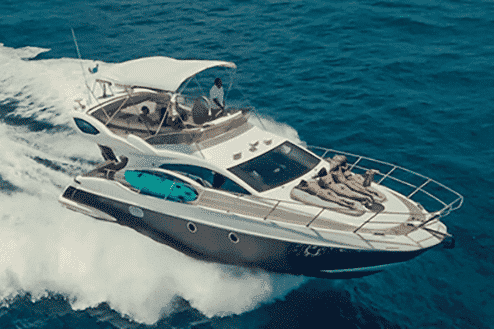 If you're a fishing enthusiast, then you know that the Riviera Maya is one of the best places to cast your line. The Riviera Maya has crystal-clear waters and diverse marine life. So the experience it offers stands out. There is no better way to experience it than on a fishing yacht. With professional crews and top-of-the-line equipment. The best fishing experiences near Tulum are a blog read away.
One of the advantages of fishing in the Riviera Maya is the ease of access to the best fishing spots. Puerto Aventuras and other ports along the coast provide easy access to the deep sea. This, besides being a beautiful town. You can catch marlin, sailfish, dorado and tuna, among many other fish. The Riviera Maya is a prime location for sport fishing. Fly fishing is also popular, especially in the Sian Ka'an Biosphere Reserve. Here you can catch bonefish, permit, and tarpon in the shallow waters of the lagoons and flats.
These services will provide you with everything you need for a successful day on the water. So grab your fishing gear and get ready to set sail on a fishing adventure.
Tulum Charters
Tulum Charters offers a luxurious 28-foot Pursuit Sport Fishing boat for all your fishing needs. The boat is fully equipped with modern amenities that ensure a comfortable and enjoyable experience. The air-conditioned cabin provides a perfect place to relax and cool down after a long day of fishing. Alson, the boat also has a private bathroom, which is a convenience that not many fishing boats provide.
In terms of pricing, Tulum Charters has a range of packages to fit different budgets, from 550 to 850 USD. The webpage has a useful calculator. Their packages include half-day, full-day, and overnight trips, all of which are reasonably priced. The prices also include all the necessary fishing gear, so you don't have to worry about bringing anything except for yourself.
Another notable aspect of Tulum Charters is that their boat is fully equipped with modern technology, including GPS, fishfinder, and VHF radio. These tools are essential for locating fish and ensuring that you stay safe while out at sea. 
Pesca Maya
Pesca Maya is a renowned Cancun-based fishing charter service. It also operates in Tulum under the name Ascencion Bay Fishing. It offers some of the best fishing experiences in the Riviera Maya. Their team of experienced guides and captains know the local waters like the back of their hand and are committed to providing an unforgettable experience. One of the things that set Pesca Maya apart is their patience with beginners. Whether you are an experienced angler or new to the sport, their expert guides will provide all the necessary instruction and support you need to have a successful day on the water.
Their boats are equipped with top-of-the-line fishing gear and equipment, ensuring that every guest has the best possible chance of landing their dream catch. Unlike the Bahamas, visitors can fish for bonefish 365 days of the year. Of course, in Tulum and all the Yucatan Peninsula, you may experience very windy days from the South East, East, and North. However, there are always protected flats or lagoons where Pesca Maya can take you fish bonefish, permit, tarpon, snook, jacks, barracudas, Spanish mackerels, and other species.
Wasabi Loco
Captain Rico Wasabi is a well-respected name in the fishing charter industry, with years of experience under his belt. Having served in the United States Marine Corps for two tours in Vietnam, he decided to settle down in Mexico and start Wasabi Loco Sportfishing Adventures in 2008. Since then, he has grown the Wasabi Loco Fleet to 5 boats, offering a range of incredible offshore fishing opportunities in the rich and productive waters of Mexico's Caribbean coast.
The Wasabi Loco Fleet's team is committed to making your fishing adventure a memorable one. Their knowledge of the local waters is unmatched, and they are always happy to share their tips and tricks to help you catch your dream fish.
For those traveling with kids, the Wasabi Loco Fleet offers an experience that the whole family will enjoy. With patient and friendly captains and mates, children will learn how to fish and appreciate the beauty of the ocean. The boats are also equipped with all necessary safety equipment, ensuring that your family's safety is always a top priority. Maybe you're a professional angler looking for an exciting offshore fishing trip, or a family looking to make unforgettable memories. Either way, the Wasabi Loco Fleet is the perfect choice for your next fishing adventure.
Mexidivers
Mexidivers is a family-owned and operated dive center located in Tulum, Mexico. They offer a variety of diving experiences, including scuba diving, cave diving, and snorkeling. In addition to diving in Tulum's beautiful waters, Mexidivers also takes guests on excursions to dive sites even down to Belize. They have a range of packages to suit different needs, from beginner to experienced divers, all of them with certifications.
One of the perks of diving with Mexidivers is their commitment to sustainable and responsible diving practices. They follow strict guidelines to protect the marine environment and promote conservation efforts. They also work with local organizations to educate divers and promote awareness of the fragile ecosystem. 
Alfonso Tours
If you are looking for an experienced and reliable fishing charter service in the Riviera Maya, look no further than Captain Alfonso and his team at Alfonso Tours. With over 30 years of experience in the industry, Captain Alfonso has a wealth of knowledge and expertise to offer his clients. His boat, Calipso III, is sturdy and well-maintained, ensuring that you will have a comfortable and safe experience out on the water.
Captain Alfonso and his crew also take part in fishing tournaments throughout the year, giving clients the opportunity to showcase their skills and potentially win big prizes. Captain Alfonso and his team will provide you with personalized attention and guidance to ensure that you have a memorable and successful fishing trip in the beautiful waters of the Riviera Maya. So, come aboard and get ready to reel in some impressive catches!