Leona Vicario stop in the Maya Train route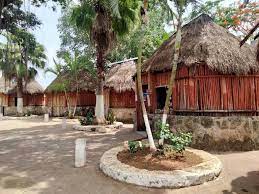 The ambitious Maya Train project is not only connecting major cities in the Yucatan Peninsula. It will also introduce lesser-known gems like Leona Vicario to the tourism map. Granted: it will not be a full station. But the upcoming Leona Vicario stop in the Maya Train route will open up new possibilities for exploration.
What to expect
It has been often overshadowed by more popular destinations. However, this quaint town offers a unique opportunity to delve into the "B side" of the Maya Peninsula. Visitors will have the chance to immerse in the local culture. Also, savor authentic cuisine, and experience the warmth of the people. From charming streets adorned with vibrant murals to hidden cenotes and lush jungles, Leona Vicario promises an unforgettable adventure off the beaten path.
Leona Vicario stop in the Maya Train route: A bridge to Puerto Morelos
This stop offers a unique advantage to visitors looking to experience the best of both worlds. Situated in close proximity to Puerto Morelos, one can seamlessly transition from the captivating beauty of the Riviera Maya to the heart of the peninsula in the same day. Imagine starting your morning strolling along the pristine beaches of Puerto Morelos, enjoying the turquoise waters and vibrant marine life. Then, a short journey will transport you to the enchanting town of Leona Vicario, where you can immerse yourself in the rich local culture, savor traditional delights, and explore natural wonders like hidden cenotes and lush jungles. With this easy connection, the Maya Train is set to unveil the true essence of the Yucatan.
What to do
Here you'll find yourself immersed in a world of natural wonders and rejuvenating experiences. The allure of Leona Vicario lies in its breathtaking cenotes, inviting you to plunge into crystal-clear waters and embrace the refreshing embrace of nature.
A beautiful plaza, at the heart of the town, welcomes visitors with open arms and a central kiosk that adds to the quaint charm of the place. The town's cemetery, adorned with unique decorations, offers a fascinating glimpse into the Mayan perspective on death—a true celebration of life's cycle.
Leona Vicario stop in the Maya Train route: The Ejido House
The Ejido House stands tall as a multicolored landmark, a place where every visitor can't resist taking an obligatory photo to capture the vibrant spirit of Leona Vicario. Here you will find totem letters of the town! These vibrant and eye-catching letters stand tall, adorned with intricate designs that beautifully depict the essence of this charming place. Strike a pose, embrace the local charm, and capture the essence of Leona Vicario with your camera lens.