Sfer ik in Tulum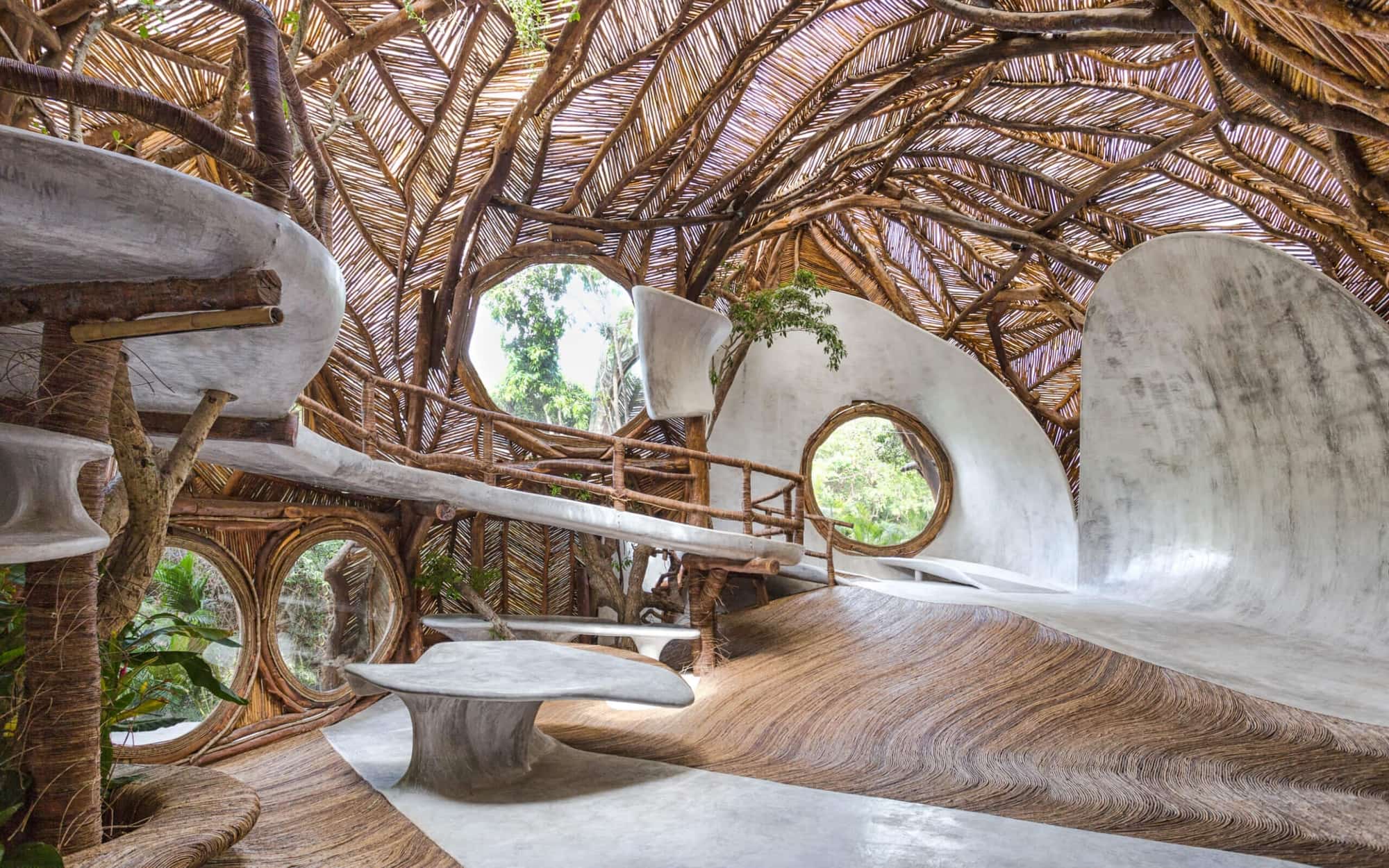 Sfer Ik in Tulum is defined as a gallery to explore barefoot. Its architecture emulates a nest in the middle of the jungle. Its construction involved reeds, grasses, stones and even ceramics. So, the viewer seeks to feel that connection with nature.
What to expect
Sfer Ik has become a showcase for artists looking for new ways to experiment and create art. It is a philanthropic community. Here, local inhabitants can find workshops related to art and crafts. Exhibitions come and go frequently. The place sits at km 5 of the Tulum-Punta Allen highway. It is open daily and admission is free, although donations are welcome, there is an extension of the gallery inside the Azulik hotel, designed for artistic residencies and art and craft workshops.
Sfer ik in Tulum: The concept
The guiding idea behind the structures of the SFER IK Museion is that architecture "should be harmonious with our bodies and be an extension of our physical and mental states," as they explain on their official website. From that conception arises that the works presented in both galleries are specifically designed for the place they occupy, dialoguing with the environment and the forest that surrounds them. The context is a fundamental part of each creation, one more element in the symbiosis between visual arts and nature.
Art in architecture
One of the artists recently curated to exhibit in the space is the Japanese artist Azuma Makoto, a master recognized worldwide for his botanical sculptures. In line with the precepts of SFER IK, Makoto designed a giant floral arrangement with plants native to the jungle that in ancient times belonged to the Mayan Empire. The enormous structure, the Japanese creator's largest work to date, seeks to reflect Mexico's rich biodiversity through live flowers and elements of the building that houses it, such as branches, concrete and fiberglass.
Sfer ik in Tulum: Also a museum
The Tulum museum also offers other types of experiences for its visitors, such as ceramic workshops coordinated by artisans, textile design workshops to combine creativity with natural dyed fabrics or private ceremonies known as Zum Pul Che or temazcal, a traditional Mayan medicine practice that uses a combination of sauna, herbs and shamanic music to "sweat out fears and negativity to be reborn". In addition, the art gallery has a space where masters from around the world give open lectures on disciplines as varied as curating, sculpture and cooking, among others.