Travel tips for Holbox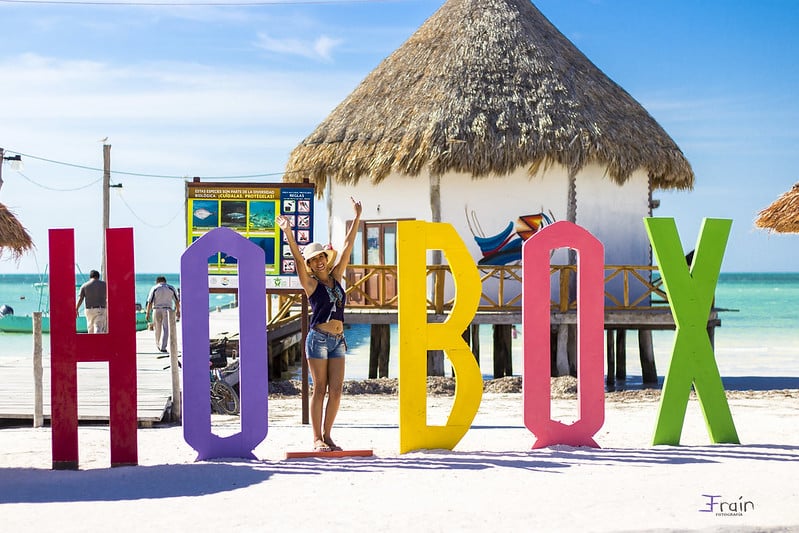 Holbox means 'black hole' and owes its name to the Maya, who were the first to settle in the island. They gave this name to the island because of the cenote Yalahau, which was the largest water source on the island for a long time. In the past, the people of Holbox earned their money by fishing, but today tourism is booming and is the main source of income for the island. With everyday efforts to hold back on massive tourism, some restrictions apply. Here are some travel tips for Holbox Island.
What to expect
The island of Holbox consists exclusively of sand, which means that there are no paved roads. This gives the island a really special charm! Holbox is only about 42 km long, just 1.5 km wide and completely car-free. However, a lot of golf carts, which run on gasoline, drive around the island.
The best time to travel to Holbox Mexico
The recommended travel months for Isla Holbox are November to April, as these are the driest and less hot months of the year. From May to October it gets very hot, rainy and strong thunderstorms brew. We were on Holbox in mid-May and had ideal weather – well, that's just nature. No rain, a light breeze and we were even happy about some clouds.
The journey to Holbox
What is the best way to get to this paradisiacal dream island? Since you will most likely end up in Cancun for your trip to Mexico, we'll just take this place as a starting point.
Travel tips for Holbox: Get to the port
From Cancún you will start your trip to Chiquilá, which is about 150 km away. For this trip you can either rent a car or take the popular ADO bus (≈ 15 USD / 3.5h).
You can easily buy your ferry ticket directly on the spot at the landing stage of the big boats. On the way there you will be chatted up several times by salesmen, we preferred to ignore them and bought our tickets at the official ticket counters.
Flights to Holbox
If you prefer a more spectacular journey and have a larger travel budget, perhaps the propeller plane would be something for you. The small planes, which only have room for 2-13 passengers, only offer private flights. Fares start at 400 USD and vary depending on the size of the plane. You don't pay per person, but per plane! Within about 30 minutes you can reach Holbox from Cancún.
Travel tips for Holbox: Accommodation tips
The place-to-be on Holbox is located in the western tip of the island and is called Holbox Town. There you will find the small airport, the ferry station, many bars, restaurants, tour providers, cafes and of course different accommodations.
Travel tips for Holbox: Getting around
Basically everything on Holbox can be reached on foot, but if you like to visit the spots Punta Coco Beach or Punta Mosquito, a means of transportation is recommended. You can rent a bike on Holbox either by the hour or for whole days. We saw many offers between 100-150 pesos (≈ 4.50 – 7 USD) per day. Either keep your eyes peeled for offer signs or ask at your accommodation – many hotels rent bikes, arrange cabs or at least know other places to go.
Golf carts on the island
Another very popular means of transportation on the island are golf carts. You can either use a cab golf cart or rent one yourself. However, this pleasure is anything but cheap, and you will easily pay around 1,000 pesos (≈ 50 USD) per day.