Constituyentes Beach is a great option to spend a day at the beach without even leaving Playa del Carmen's downtown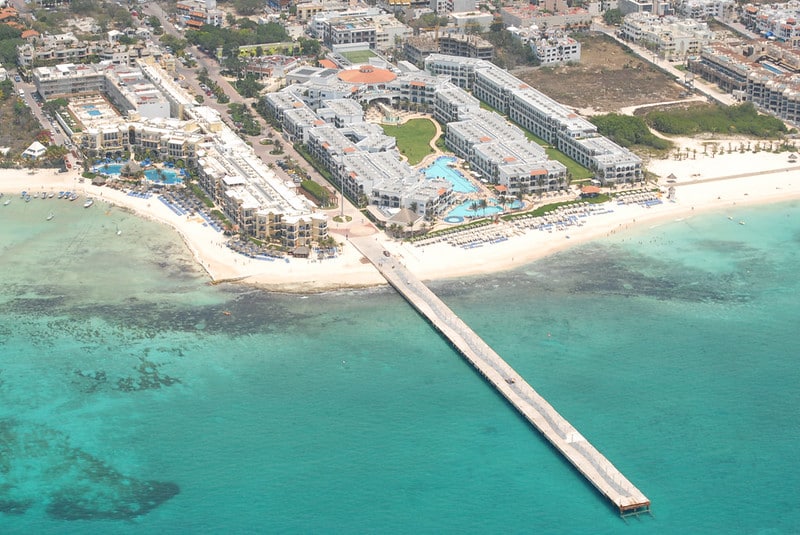 Though not a place to escape the city crowds, Constituyentes Beach is still a great option for anyone looking to spend a day staring at the ocean in Playa del Carmen. It's easy to find and not far from the city's trendiest places.
How do I get to Constituyentes Beach?
Constituyentes Avenue crosses all of Playa del Carmen; all you have to do is follow it to the south. Eventually, you'll find the main access to the beach—the one with the long pier. Because Constituyentes is part of the long sand strip that extends pretty much the entirety of Playa del Carmen, however, you can access it in other ways: neighboring streets or crossing over from other beaches, like the nearby Mamitas.
What's Constituyentes Beach like?
As a popular public beach, it's visited by tourists and locals alike. And, unless you arrive very early, there's no time of day in which you won't find people here—it's a great place to do some people-watching.
Though not as wide as other Playa del Carmen beaches, like Fundadores or Xaman Ha, Constituyentes is still pretty wide. No matter how crowded it gets, you'll find space to lay back and rest or walk as far as the eye can see.
Notably, there's not much shade here, so you should bring an umbrella. Or, as there are plenty of beach clubs around, you can rent a shaded deck chair or beach bed and order something to eat or drink.
Speaking of rentals, you can also rent all kinds of things to make your day at the beach a little more exciting, like kayaks, buggy boards, paddleboards, jet skis, or even whole guided diving tours—take your pick.
Stuff around Constituyentes Beach
As Playa del Carmen's trendy 5th Avenue is only one block away, there are all kinds of things to do around here. Whether you're looking for a café, a place to eat, or a bar, you won't have a problem finding one to your liking within walking distance from Constituyentes Beach.