Hubiku Cenote: The Iguanas' Nest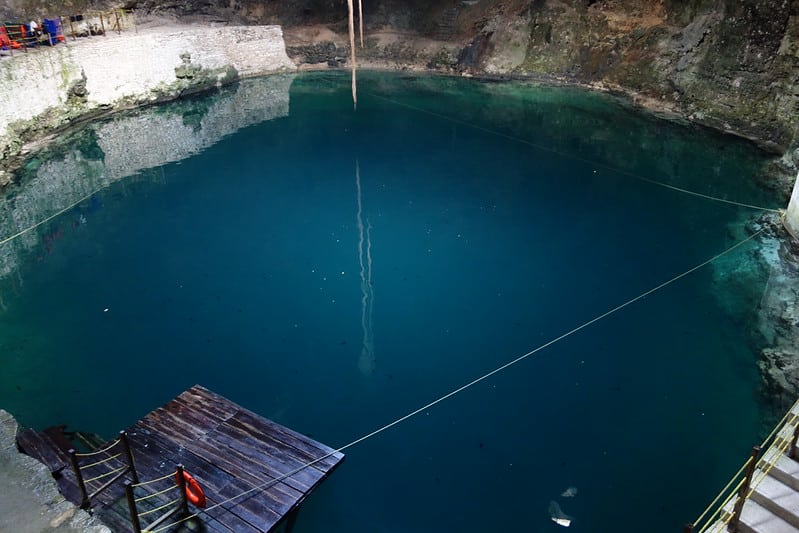 The Riviera Maya is peppered by cenotes and the location of some is very convenient. The Hubiku cenote, close to Yucatan's city of Valladolid, is right on the way to and from Chichen Itza, Ek Balam, and other, smaller archeological sites. It's a perfect stop before or after spending the day touring the Mayan ruins under the sun.
Facilities at Hubiku Cenote
Hubiku Cenote's facilities were thought up and designed to accommodate more visitors than your usual cenote. Because of that, they're quite extensive.
Let's start with those you can expect at almost every cenote: bathrooms, changing rooms, and showers—remember to wash off any sunblock before entering the cenote. You can also rent lifejackets and leave your stuff secured inside a locker.
Would you like some food? Yes, please. At the restaurant, you can attack the buffet or order directly from the menu (or both). Visit the gift shop to get a souvenir or two.
Exhibits at Hubiku Cenote
Additionally, there are a couple of exhibits in case you want to understand the culture of the Mayans a little better. The first is a Tequila Museum, where you can learn where the typical drink comes from and how it's made. The other is an installation that illustrates the everyday life of the locals.
Inside the Hubiku Cenote
If you don't like iguanas, you might not be too happy to find out "Hubiku", in Mayan, means "iguanas' nest", or something along those lines. But it's just a name—we promise it's not filled with them.
It can get filled with people, though. Unlike other cenotes, Hubiku has an enormous concrete platform with rope railings to accommodate many visitors. 88 feet-deep, you can float or swim in its large pool. Or, if you have a diver's mask, take a peek to see what sights await you under the surface.
The sun shines through a gigantic hole in the middle of the dome, providing the place with natural light besides the electric lighting.
Because of its location, size, and overall beauty, some have said Hubiku Cenote is a great alternative to the more famous—and sometimes crowded—Ik Kil Cenote.